Welcome! Thanks for coming to visit my website. Here I've collected information about my work that you may find useful.
I am the Cardinal Francis George Fellow of Faith and Culture for the Word on Fire Institute.  I am also Visiting Professor of Apologetics at Houston Christian University (formerly Houston Baptist University). My writing, speaking, and teaching focus on imaginative and literary apologetics, and on the work of J.R.R. Tolkien.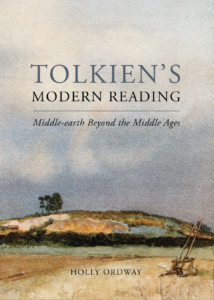 My book Tolkien's Modern Reading: Middle-earth Beyond the Middle Ages  (Word on Fire Academic, 2021) is the recipient of the Mythopoeic Society's 2022 Scholarship Award in Inklings Studies.
It is available directly from the publisher here (worldwide), or on Amazon (where there is a Kindle version).
*********
For details on my other books, as well as on my various book chapters, articles, essays, and poems, have a look at my "Writing" page. You can see my contributions to the Word on Fire blog here.  For selected recordings of lectures, presentations, and interviews that I've done, see my Media page.
I travel both in the U.S. and internationally to speak (and also do lectures by Zoom, Skype, etc.), so if you're interested in having me give a talk to your organization, be in touch!
Do please take a look around!
All best wishes,
Holly Ordway
SaveSave